Like all vehicles, RVs depreciate shortly after they are driven off the dealership lot. A lot continues to depreciate rapidly over the course of the first three to five years.
At the same time, many of the families who invest in an RV find that their kids outgrow them, and they need to upgrade, or the kids grow up and they need to downgrade.
This means that there are a lot of good used RVs being sold by private parties that might have a lot of life left on them.
Though these people also paid a premium dollar for the RV when it was new, and you can trust that they're looking to get as much back on their major investment as possible.
If you're in the market for a used RV or one has caught your eye, you need to be shrewd to make sure you are truly getting a good deal. The last thing you want is to buy a lemon of an RV loaded with buyers' remorse.
There are several important steps that can't be skipped in the process of buying a used RV from a private party.
This includes understanding your financing options, how to find the right RV for your needs, as well as how to accurately assess the value of a used RV, and how to negotiate the best price, without souring the deal.
Step One: Understanding Your Financing Options
Before you can make an offer on a used RV, you have to have your financing in place.
Many people don't have cash in hand to make such a large purchase, so you'll need to understand your financing options first.
Contact your preferred lender and inquire about their used vehicles' terms. In order for them to underwrite any RV loan, you will need to meet their specific criteria. This might include things like
You also need to understand your state's laws regarding out-of-state sales tax purchases.
Many states require you to pay an ad Valorem tax when you purchase an RV out of state. This is a percentage of the purchase price you pay to the seller.
If your state assesses a 6% ad Valorem tax, and you are setting your price range at $100,000, you need to account for this additional $6,000 plus other fees when you negotiate.
Contact Multiple Lenders
It's also a good idea to contact multiple lenders. Different lending agencies offer different terms for different types of used RVs.
Some lenders have limits on the type of RVs they are willing to finance. Some might offer better terms for a motorhome, which is easier to assess the value of, compared to a popup camper that tends to depreciate quickly.
Once you have multiple terms and you understand the requirements of each lender's rules for financing a used RV, you can pick the best lender for the type of RV you are considering.
This will also go a long way toward helping you dial in your budget and the amount of down payment you need to set aside.
Step Two: Thoroughly Research Your Used RV Options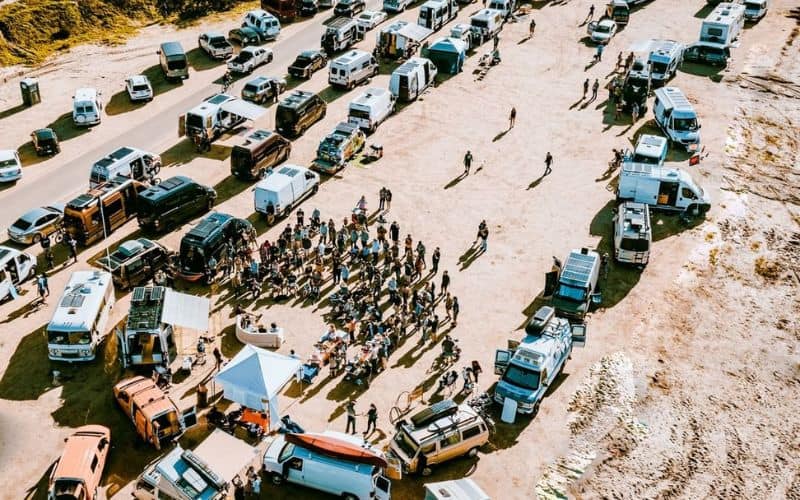 Before you contact any potentially private sellers, you need to research to ensure you are getting the right type of RV to meet your needs.
Study Floorplans & Features
Keep in mind that most RV manufacturers make multiple floorplans of the same model. Some are drastically different, but you can often find nearly identical models with slight differences in interior trim or appliance locations.
Researching similar models with different floorplans helps you understand the overall durability and material build quality of that make and model in general.
Then you can dial in on that particular make, model, and floorplan to see what makes it different. You can also better assess if it's truly the right RV for you.
Take for example, the 2022 Jayco – Redhawk 26M Class C Motorhome and the 2022 Jayco – Redhawk 26XD, They are the same length, they have the same appliances, and a single slide-out.
The difference is that the 26 XD has a rear master suite and can sleep up to 8 people, whereas the 26 M can only sleep 6 and has a convertible sofa serving as the master bed.
The similarity between these two means that even if you are interested in the 26 XD, but reviews are sparse, you can still find a lot of value in reading reviews about the 26 M.
If the used RV is within 1 to 3 years old, you might also be able to find a showroom or lot model at a nearby dealership to let you see it in person.
All you have to do is feign interest to an RV salesperson, and they will give you tons of insights on the model, while you pick their brains relentlessly.
Finding a used RV at a dealership can also help you better dial in the barometer on pricing.
Just remember that many RV dealerships tend to have a 15 to 25% markup, even on used models.
So be sure to knock at least 20% off their asking price when considering the offer you want to make on a private party's used RV.
Attend RV Shows & RV Events
If you are relatively new to the world of RVs, then it helps to familiarize yourself with the features and terminology.
Knowing the difference between a wet bath with a combination shower and toilet and a dry bath where the toilet and shower are separate, can really help you understand if a specific used RV is really right for your family.
Spending a Saturday afternoon wandering around an RV show, touring models, and talking to experts can go a long way toward determining which features are right for your travel style.
You might even find out that the model you are interested in isn't exactly what you want, or you might find that it has an upgrade that's rare and worthy of added value.
Read Online Forums
These days you can find a forum or message board for just about any topic under the sun.
So, it's no surprise that you can join many great RV message board groups for free online.
You can read through the opinions of experienced RVers and ask if anyone else has the type of RV you are looking for.
Again, you don't have to ask for exactly the floorplan you are looking for. If you did your research, you will know what floorplans are similar to the one you are interested in when taking in the opinions of other RV owners.
Step Three: Look For Online Ads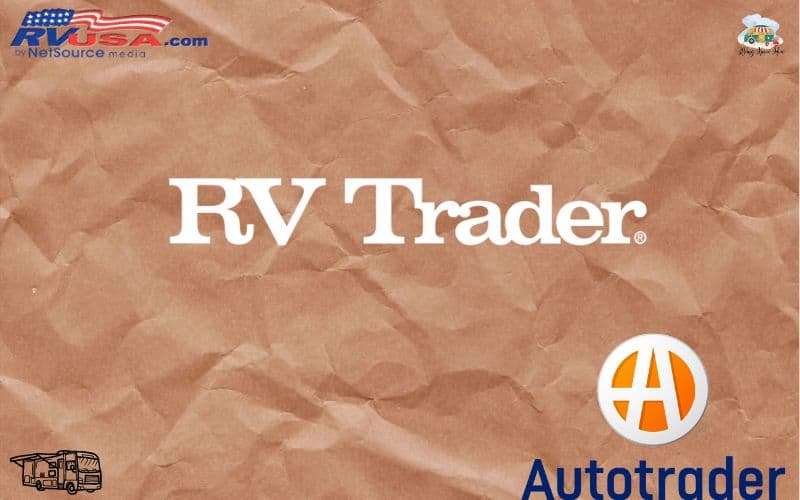 The internet offers up tons of websites where used RVs are being sold. This includes sites like:
Other national websites like Craigslist, local RV dealers selling used RVs on consignment, and even Facebook Marketplace can also be great resources for finding used RVs being sold by private parties.
Consider The Distance
The truth is that sometimes the ideal used RV for you isn't going to be anywhere near where you live.
So when you're shopping national websites, you want to filter the search results by distance.
Ask yourself just how far you are willing to travel to get your pre-owned RV.
If the distance exceeds 100 miles or so, you also need to factor fuel cost into the purchase.
If you buy an RV a thousand miles away and that RV gets 10 MPG, you could be adding as much as $500 to $750 to the bottom-line cost. So
If you're not willing to drive a great distance or shoulder the added fuel or flight costs to get the used RV of your dreams, then you need to be willing to be patient.
Step Four: Contacting The Seller Of A Used RV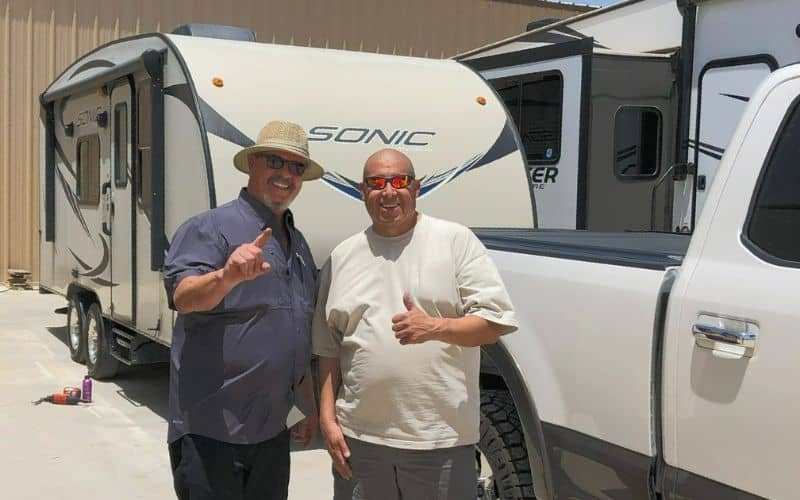 Let's say you've put in your due diligence. You've researched the type of RV you want, understand similar floor plans, and have an idea of what that model is worth.
Then you searched far and wide to find the perfect RV near your front door.
Now it's time to reach out and contact the seller. This is the first step in any negotiation process, and you need to approach it with the right attitude.
While you must always be wary, you must also be respectful of the seller's interest in seeing the most return on their initial investment.
Chances are this might be their first time selling an RV, and they are just as wary of you taking advantage of what they think is a generous offer.
After a cordial conversation, you can start to ask key questions. The seller should be expecting you to ask a lot of questions because you want to see if there is a willingness to buy.
Along the way, ask yourself if they seem like they are being honest or do they seem to get frustrated with you?
Early Questions To Ask
Before you get into the hard and fast process of negotiating a final price, you want to ask some simple questions to evaluate the condition of the RV.
Along the way, you want to listen for signs of pride of ownership. This includes asking questions like:
Ask For Pictures or An In-Person Tour
The old saying goes, "A fool and his money are soon parted." This holds true for anyone willing to buy a used RV sight unseen.
This is a major purchase and a long-term investment. Ideally, you want to take a tour in person.
If the RV is too far away to make this reasonably feasible, you should ask for a bevy of pictures. This includes images of:
If the seller won't provide you with most of these pictures or refuses to give you an in-person tour, chances are they are hiding something.
As much as you might love the RV on paper, the wise course of action is to walk away.
If possible, ask lots of questions before going to see it as you might learn that it's not even worth your time.
Step Five: Inquire About The Title and Loan Status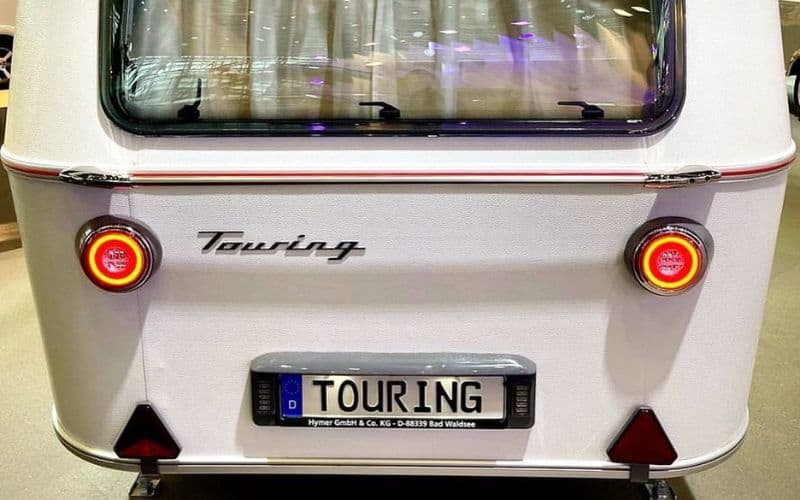 Let's say you've done your research, found the used RV you want, and the seller has given you enough pictures and answered enough questions to make you feel confident in moving forward.
The next critical step is ensuring it has a clean title. You want all the records to look good and ensure they haven't been in any accidents.
If you are considering buying a used motorhome, you should check the VIN number, using a service like RVChexto to learn more about its accident history.
This will at least give you an idea of any public records about the drivetrain.
Though trailers and other towable RVs don't have VIN search features, which is why the picture portion of the negotiation/communication was so important.
If the RV still has a lien on it, or it was previously financed, you will need the seller to provide you with a lien release card, or similar official documentation from the lender.
Step Six: Get A Professional RV Inspection
Like when you buy a home, you should ask for a professional inspection before buying a used RV from a private party.
This is especially important if you aren't an expert RVer with extensive knowledge of what to look for.
Whereas a trained RV inspector will be able to take a close look at all the systems.
This inspector will go through a comprehensive checklist that ensures they catch anything that could be a potential red flag.
If they find something serious, or the RV seller refuses to consent to a third-party inspection, you should strongly consider walking away from the purchase.
You might be able to find a local RV inspector by searching for "RV Inspectors Near Me" oryou can find a list of NRVIA-certified instructors at NRVIA.
Step Seven: Negotiate The Price Of A Used RV
Now that you've done your research, you've asked your questions, you're confident about the state of the RV, you know it has a clean title for sale, and it's passed inspection; now you can negotiate a price.
A motivated private party might let you talk them into giving you a better deal. If they say no to negotiations, you might have to be prepared to walk away.
Chances are good; they might reach out to you after a simmering down period with more willingness to negotiate.
Though if they remain firm on their price, you have to ask yourself how far you're willing to go.
If their price is reasonable, you might need to set your ego aside if they stand firm on their asking price.
Important Details When Buying a Used RV From a Private Party
There are a few key details to be mindful of when buying a used RV from a private seller. These are important measures that need to be officially taken care of to protect yourself.
Drafting an Official Bill of Sale
A bill of sale is critical for noting that you are indeed the new owner of the RV, and it's likely something your state's DMV will require later when you register the RV.
It doesn't have to be notarized unless your State requires it by law. Though you need to make sure you have it in writing and signed by both parties and dated.
Make sure that the official bill of sale includes a basic description of the RV being sold, with identifying information like the VIN number and/or plate number.
Make sure it includes how much is sold for, to whom, and where.A detailed bill of sale will act as your receipt to prove the transaction happened. Also, make sure to keep a record of any funds that are transferred.
Know Where To Get Funding For A Used RV
Unless you are buying an older RV or an inexpensive model like a popup camper, chances are good that you aren't be buying the used RV with cash out of your pocket.
If you are going through a lender, you need to make sure you mind all of their important details.
This typically includes things like a professional inspection. They will want to have a third party assess the real-world value of the RV and any potential faults that might shorten the lifespan of what is also the lender's investment.
They will likely also want the VIN accident report if it's a motorhome.
When paying the seller, it's always best to pay with a cashier's check. You're your preferred lender might have other specific requirements before they underwrite the loan.
Make sure to provide all necessary information and documentation or you may get turned down.
Title & Registration For A Used RV
A clean RV title will have spaces and data fields that must be filled out. Once this is complete and you have the signed bill of sale in hand, all you need to do is exchange the title and take the keys to the new-to-you RV.
Though you should also make sure you both exchange information such as your addresses and phone numbers.
Make sure the seller fills out the title correctly and takes pictures of everything for reference if needed later.
You then need to bring this titled and signed bill of sale to your local DMV. If you purchased the RV out of state you might have to pay ad Valorem tax, title, and licensing fees specific to your state.
Most states require you to register your RV in your home state within 30 days. Though some states allow you to go as much as 60 days.
Conclusion
There are a lot of important steps in the process of financing, finding, researching and closing the deal on the used RV of your dreams.
Before you start scouring internet ads for used RVs being sold by a private party you need to first get your financing inline.
Many sellers entertain offers from multiple parties. Having your financing preapproved and knowing the terms of your loan will go a long way toward moving your offer to the top of their list.
Researching the type of RV you want, and understanding their value in the marketplace is also a critical step toward finding the right used RV being sold by a private party.
It also help you dial in models that might be overpriced to rule them out before negotiating.
Once you've found a used RV being sold by a private party, you can start the process of negotiating and ensuring that you abide by the terms of financing set forth by the lender.
This likely includes getting the RV inspected by a third-party inspector and making sure that the seller's title is clean.
When you are ready to close negotiations, make sure to get a detailed bill of sale.
Your state DMV will need all of this information in order to register the RV in your name, and this information will be used to assess any ad valorum taxes that might apply to the sale.