As you set out to plan your van conversion, your number-one question is most likely going to be the cost.
Sprinter vans are one of the most popular van models for vanlife, so just how much does it cost to convert a Sprinter van for vanlife?
Since there are nearly endless ways to convert a van for full-time living, it can be tough to estimate just how much the project will cost. But it is possible!
So, How much does a Sprinter van conversion cost?
Costs will vary, but generally a Mercedes-Benz Sprinter conversion will cost between $30,000 to $32,000 with all of the features for living on the road full-time. Depending on factors such as materials, systems and features, you could spend as much as $150,000 to convert your van.
But don't let these large numbers scare you; since you may also be able to complete a DIY conversion for as little as $5,000. It just takes some creativity, especially as you find your materials.
Let's break down the costs of converting your Sprinter van to provide more insight and help you better estimate the costs for your project.
Why Buy a Sprinter Van for a camper conversion?
Before we discuss conversion costs, we need to take a look at the cost of the van. Sprinter vans are very popular for vanlife, since they offer good interior space and reliability.
Popularity aside, one of the most prohibitive things about buying a Sprinter van for your home on wheels is the price.
New Mercedes or Freightliner vans are generally priced around $40,000, and that's before the conversion.
Even a used Sprinter van can be pretty expensive, but that may also be a perk because the vehicle's value doesn't decrease as much as other vans, making your Sprinter van more of an investment.
After you convert your van, you may be able to sell it down the road without losing much from your investment.
Some of the other perks of buying a Sprinter van as the base for your mobile home include reliability, easy maneuverability, and maximum interior space.
Sprinter vans with diesel engines also get better MPG than comparable vans from other manufacturers, so you may pay more for the van itself, but the gas mileage may be worth the extra cost in the long run.
Although Sprinter vans are very hardy and reliable, maintenance and repairs can be a pain because the vehicle has lots of proprietary technology.
This means that many repairs will require servicing the van at a Mercedes dealership. That said, there are Mercedes-Benz dealerships in all 50 states as well as Puerto Rico.
Which Sprinter Van Should I Buy?
The vehicle you choose may impact the costs of converting it for vanlife, so you should consider the specs of your base vehicle as you estimate your van conversion costs.
There are three different names for Sprinter vans:
Mercedes-Benz Sprinter
Dodge Sprinter
Freightliner Sprinter
Despite the different names, these are all actually the same vehicle. Daimler AG owns Mercedes-Benz and Freightliner, and also owned Dodge until 2007.
The strangeness with the names all had to do with something called a "chicken tax", which we won't get into here. So, unless you buy a newer Dodge Sprinter, it's probably the exact same van.
The cost of your base van will vary based on specs, which we'll get into shortly, but prices will generally range between $35,000 and $58,000.
Of course, you can save if you buy a used Sprinter van, and some may even come pre-converted.
However, you won't be able to fully customize the design unless you plan to gut and re-convert the base van.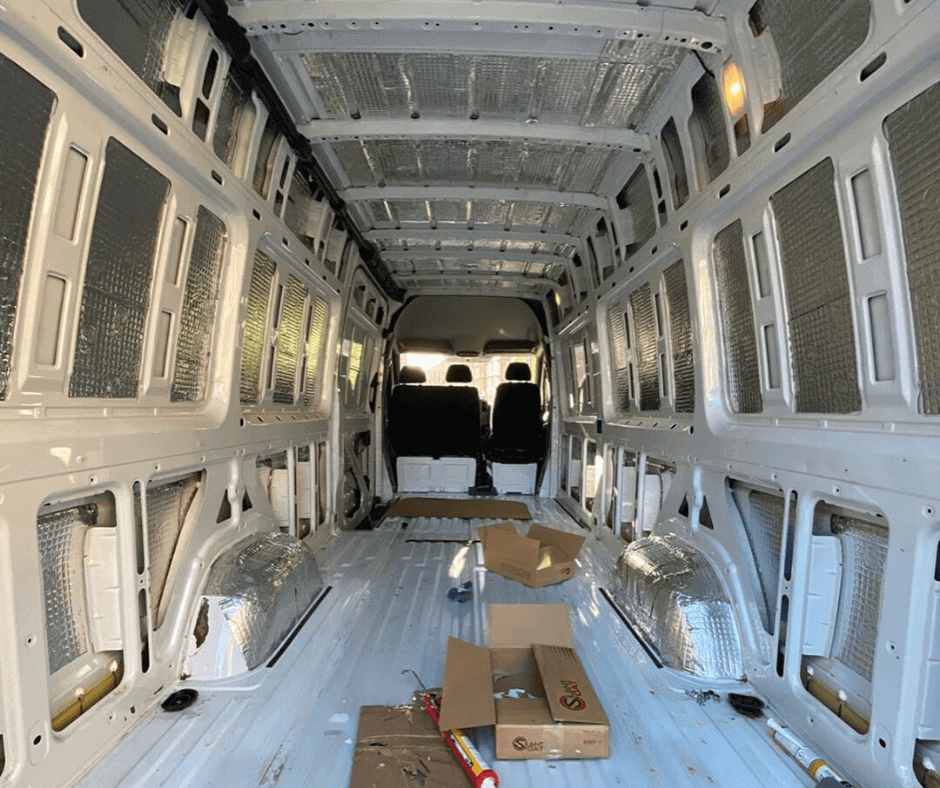 What Are the Different Sprinter Van Specs?
Whether you're buying a new or used Sprinter van, there are some key specifications you will need to consider because they will likely impact the cost of your base van.
Body Style:
There are three different types of Sprinter vans, each with different body styles and sizes
1. Sprinter Cargo Van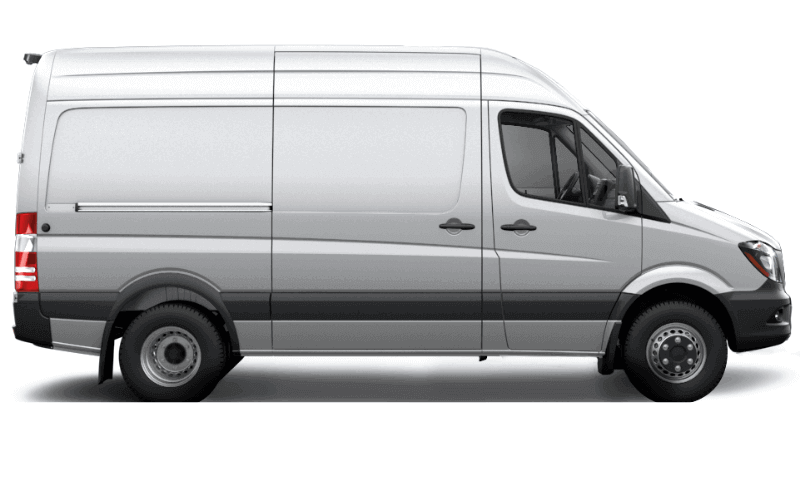 Wheelbase: 144", 170", or 170" Extended
Powertrain: 6 cyl. Diesel or 6 cyl. Diesel 4×4 (4 cyl. Gas offered only for the 144" wheelbase model)
Roof Height: 79.1" (67.7" offered only for the 144" wheelbase model)
Interior Space: 319 cubic feet, 488.1 cubic feet, or 532.6 cubic feet
Price: Starting at $33,790
2. Sprinter Crew Van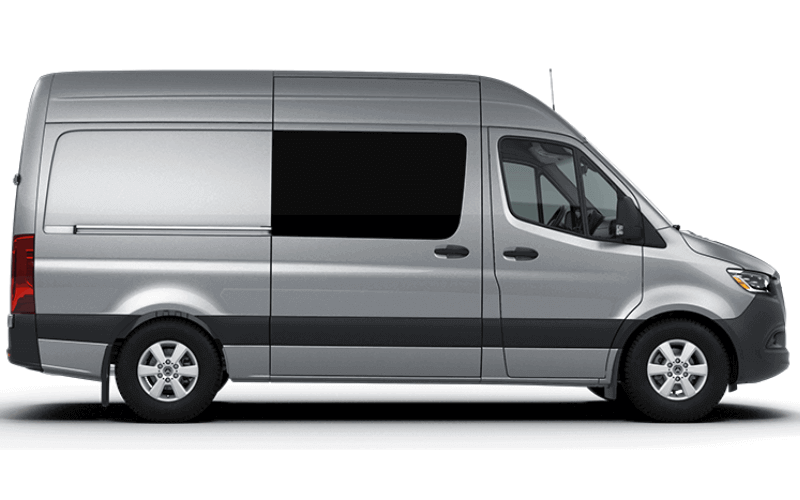 Wheelbase: 144" or 170"
Powertrain: 4 cyl. Gas, 6 cyl. Diesel or 6 cyl. Diesel 4×4
Roof Height: 76.7"
Interior Space: 262 cubic feet or 370.8 cubic feet
Price: Starting at $41,290
3. Sprinter Passenger Van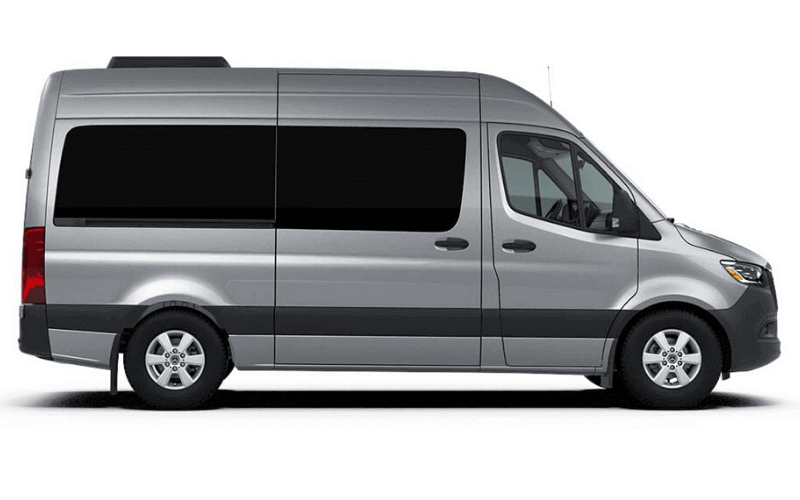 Wheelbase: 144" or 170"
Powertrain: 4 cyl. Gas or 6 cyl. Diesel (6 cyl. Diesel 4×4 offered only for the 144" wheelbase model)
Roof Height: 75.5"
Interior Space: 420 cubic feet or 544.1 cubic feet
Price: Starting at $42,990
Gas or Diesel Engine
Although diesel engines are more common for Sprinter vans, 4-cylinder gas engines are an option for some van models.
A gas engine may be preferable if you plan to travel in colder climates, since the fuel isn't as affected by freezing temperatures.
Gas engines can also accelerate faster and have better fuel efficiency, especially when you're stuck in traffic.
A diesel engine may still be better for full-time vanlife, since it can haul more and performs better over longer distances.
Diesel engines are generally more dependable and maintenance and repairs are not required as often as with a gas engine.
Additional Features & Accessories
When you buy a Sprinter van from the manufacturer, you can also choose to add packages, features and accessories to your van.
These may be more or less important to you, depending on your needs and budget.
Common features that vanlifers love to add to their Sprinter vans include captain's chairs for the driver and passenger, seats that swivel, exterior lighting, additional windows, or a driver's side sliding door.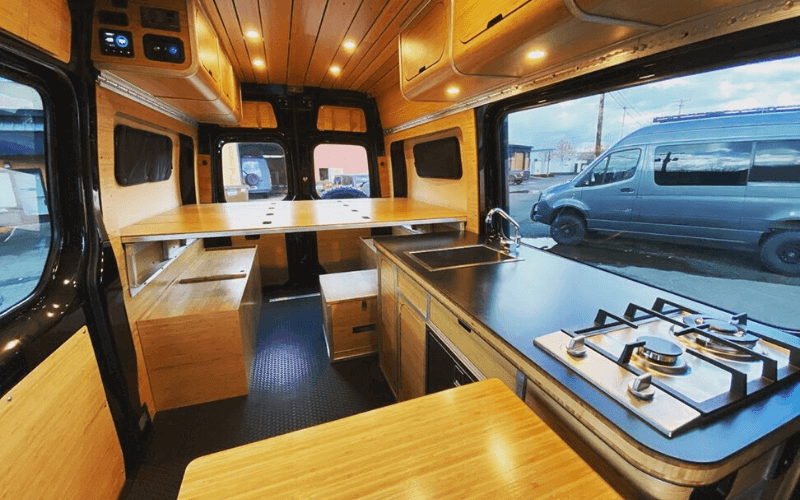 Pre-Converted vs. DIY vs. Professional Custom Conversion
The next thing to consider for your Sprinter van conversion is how the work will be completed.
Will you buy a pre-converted van and hit the road right away?
Would you prefer to have complete control of the design and budget and build it yourself?
Or, do you have the budget to pay a professional company to do a custom van conversion?
Pre-Converted Vans Are the Most Affordable Option
The most affordable way to start vanlife is to buy a van that has already been converted for life on the road.
The prices and options vary a lot, so you'll want to do your research.
You can use Craig's List or Facebook Marketplace, but some of the best places to find pre-converted campervans for sale are:
These sites have lots of listings for different models of pre-converted campervans, and you can probably find a great van for $25,000 – $40,000.
Although they're already outfitted for the adventuring lifestyle, the drawback of buying a pre-converted van is that you won't be able to customize the build-out or floorplan of your home.
However, it might be preferable if you want to get on the road right away or your budget is tight.
Pre-Converted Van Prices: $25,000 – $100,000+.
Van Conversion Companies Offer Expertise (but there's a price tag)
There are dozens of professional van conversion companies who can do your Sprinter van conversion for you.
Many of them have been in business for 20 years or more and have complete teams of specialists for everything from electrical and solar to engineering and woodworking.
Some specialize with or only accept conversions for specific vehicle models, so be sure to choose one that can handle Sprinter vans.
The benefits of working with a Sprinter van conversion company can depend on the partner you choose, but generally speaking, the perks include:
Expert design and planning guidance
Creative functionality and storage solutions (they know how to make the most of a tiny living space)
The work will be done by highly-skilled craftspeople who know what they're doing
Some van conversion companies specialize in tricky systems such as solar or electrical
The materials, features and systems are higher quality and more affordable because the company can purchase them in bulk for multiple projects
Many van conversion companies offer a warranty
Some companies offer or have a network that can offer financing if you're eligible
If you want more control of the project, or you're trying to save on costs, some conversion companies offer partial conversions so you can trust them with the complicated stuff.
Professional Van Conversion Prices: $7,500 – $14,000 on the low end, $32,000 – $40,000 in the mid-range, and $65,000 – $100,000 on the high end
DIY Van Conversions Are More Difficult, But Offer Complete Control
Many vanlifers decide to build their own conversion. It can take a long time, especially if you're working full-time while also doing the conversion project.
You can save a lot of money by doing the project yourself, but a DIY van conversion may also lead to issues or additional expenses down the road if you install a system incorrectly.
Be sure to do your research every step of the way to avoid this, and consider investing in a helpful guide or resource such as The Wayward Home's Sprinter RV Conversion Sourcebook.
With a DIY van conversion, you can also find creative ways to save, such as:
Using recycled materials or cheaper materials for interior finishes
Sourcing expensive systems (electrical, solar, kitchenettes, etc.) on Craig's List or Ebay
Sewing and making upholstery (window panels, curtains, mattress) yourself
Cutting labor costs by using a kit for complicated systems like solar power
Buying refurbished appliances (fridge, water heater, etc.) or batteries
Using cheaper lighting options like rechargeable LEDs, string lights or fairy lights
Choosing simpler alternatives for plumbing
Beyond the financial appeal of building your own van conversion, there's a special pride and joy you can take when you've built your home from an empty shell of a van.
There's also the benefit of being able to completely customize every single thing about the layout, features and fixtures.
Plus, if you can't afford one system or feature now, but plan to add it later, you can plan the build accordingly.
If you decide to have the conversion done by a professional company, none of these perks will be fully available to you.
DIY Van Conversion Prices: Up to you! The cost could be as little as $5,000, but a $30,000 budget is a better starting point.
How to Estimate Your DIY Sprinter Van Conversion Costs
In order to begin estimating the costs of your Sprinter van conversion, you'll need to start with the layout and necessary systems.
We've already put together a helpful guide for How to Design Functional Camper Van Layout, so be sure to use that as your starting point.
Interior height will be an important factor, but you should also consider your lifestyle and needs so that you know what to budget for.
Think about the major things that are necessary to make a van conversion comfortable for life on the road, such as:
The number of passengers (beds and seatbelts)
Necessary systems, such as solar and electrical power
Plumbing needs (sink, toilet, shower, etc.)
Cooking setup (indoors or outdoors)
Storage for water, cooking gas, adventure gear, clothing and personal items
Step One: Price Out Large and Expensive Items or Systems
Once you know the large items and necessary systems that you just have to have in your campervan, you should do some research on costs to begin building your estimate.
Before you get caught up in the details of layout and decor, you will want to know what your budget will be.
You may find that some items or systems aren't as important to you as others, if you need to trim things out for the sake of your budget.
Here is a sample list of pricing for big items and systems that many Sprinter van conversions include:
Solar System (panels, inverter, etc.): $400 – $2,575
Electrical System (auxiliary batteries, charge controller, etc.): $1,350 – $3,850
Kitchenette (fridge, cooktop, sink): $400 – $2,250
Butcher Block Countertops: $100
Bed / Mattress: $150
Vent Fan: $120 – $200
Swivel Table: $180
Cushion Materials & Sewing: $1,150
Toilet: $140 – $200
Shower: $440 – $1,340
Hot Water Heater: $250
Plumbing (pumps, tanks, hose, PEX etc.): $670
Water Tank (10 gallon): $33
Propane Tank (15 gallon): $50
Total Large Items/Systems Cost: $5,533 – $12,998
Step Two: Price Out Materials
The next step in estimating your van conversion budget is to price out the materials you'll need to complete the build.
Of course, the project could cost a lot more if you need to buy or rent expensive tools to complete the labor, but we'll assume you have access to the tools you need.
Another thing to consider with the cost of materials is whether you'll be using reclaimed or recycled materials such as wood or tile or flooring.
One way to significantly cut down on your van conversion costs is to use materials you already have lying around or to find free scraps to use instead of buying them new.
You might have some residential construction projects in your local area, and if so, consider heading to the job site and asking if you can take any scraps or discarded pieces.
You'll probably be surprised with what you can find!
Unlike with the larger items and systems listed in step one, you probably won't be able to skip any of the materials needed for your build, but you can probably get or find them for more affordable prices.
Here are the materials you will need to budget to buy (or find) for your Sprinter van conversion:
Insulation: $220 – $500
Wood (plywood and shiplap): $475 – $4,250
Tile: $50
Hardware, Screws and Nails: $320 – $500
Flooring: $160 – $200
Primer, Paint and Caulk: $230 – $300
Total Materials Cost: $1,455 – $5,800
Step Three: Price Out Accessories and Decor
Decor and accessories are the most variable costs for a Sprinter van conversion, because they depend entirely on your taste, budget, and what you might already own.
You might also want to add expensive features to make vanlife more comfortable, such as an awning for an outdoor space or a heater.
The list below is just an example, so feel free to use it as a baseline and add to it or make a more detailed list.
Accessories: $300 – $650
Lighting: $75
Decor: $160
Total Decor Cost: $535 – $885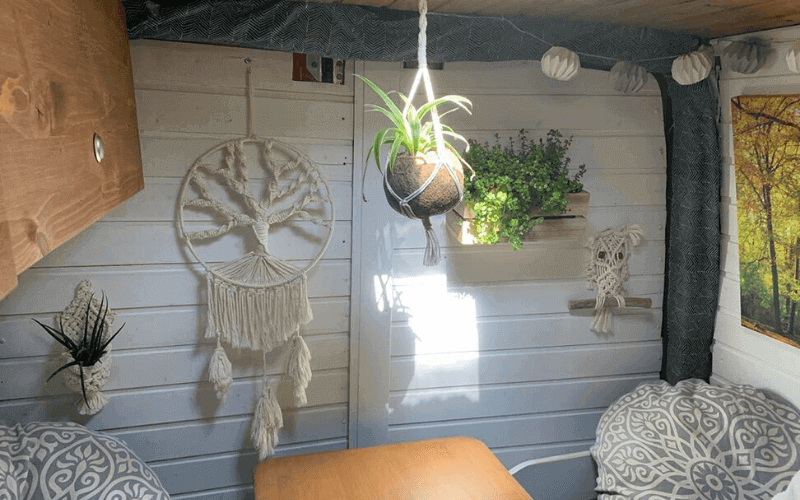 Total Sprinter Van Conversion Estimate
If you include all of the items listed in this example for your Sprinter van conversion, your total conversion budget will be between $7,523 and $19,683.
This is a very affordable way to build out a completely custom Sprinter van that includes all of the features and systems you need to live comfortably on the road.
You can also reduce your expenses if you follow some of our cost-saving tips noted above.
If you have a little more wiggle room and can afford a conversion budget of $25,000 – $30,000, there's a lot more that you can do with your conversion.
Based on the pricing estimates, it may make perfect sense to do your own Sprinter van conversion.
This is especially true when you consider the labor costs if you partner with a professional van conversion company.
To estimate the difference, you may want to research the van conversion companies I wrote about in our list of the best to compare their overall prices with your estimates for a DIY build.
For example, let's say you've priced your materials at costing $20,000. If your build will take 1,200 hours to complete and the professional company charges $50 per labor hour, your van conversion alone could cost $80,000 ($20,000 for materials, plus $60,000 for labor). And that's on top of the cost of your base van.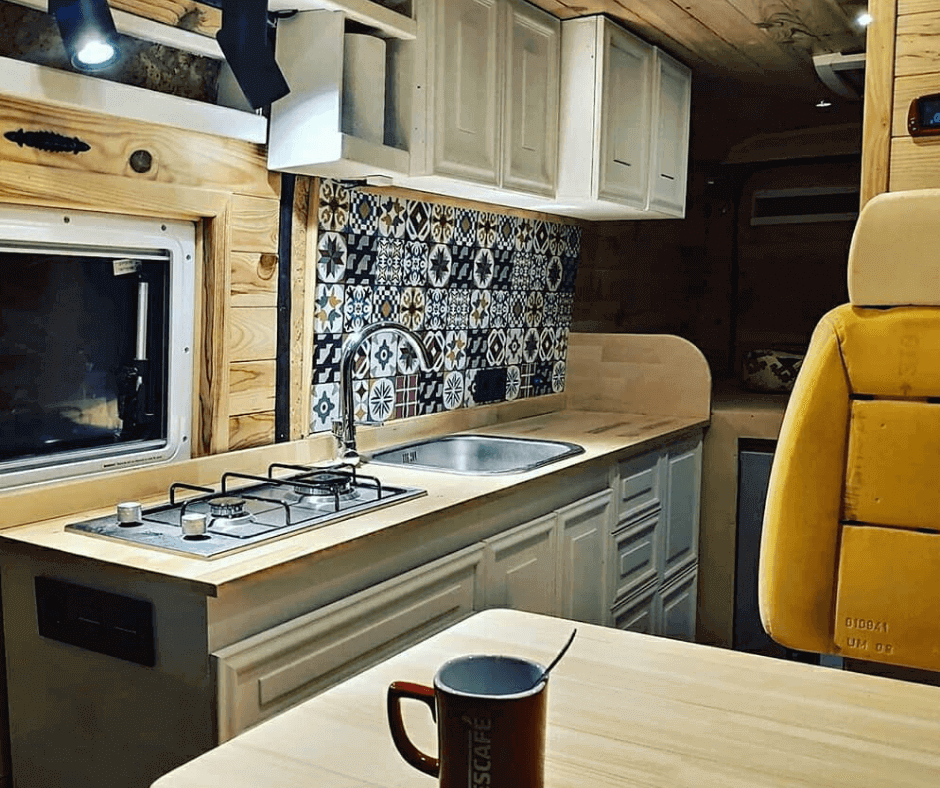 How Long Does a DIY Sprinter Van Conversion Take to Complete?
Just like with cost, the 'expense' of time involved in a DIY Sprinter van conversion can vary greatly.
Of course, the project will go a lot faster if you're not doing it alone or you can dedicate yourself full-time to the build.
The amount of time required will also depend on how complicated your build is, and highly-technical projects such as adding solar and electrical may take some people more time to complete than others.
From research and reviewing how long it took several vanlifers to finish their Sprinter van conversions, we found the following estimates:
4-6 weeks for full-time conversion projects
4-6 months for part-time conversion projects
One couple was very specific, and since their project included lots of features that most vanlifers choose to include in their vans, so we felt that was a pretty helpful example.
They did the conversion with a lot of help from one of their dads, and the total conversion took 1,080 hours.
With three people working an average of six hours a day, five days a week, that means their project took about 12 weeks or three months to finish.
When estimating how much time it will take to complete your own van conversion, ask yourself the following questions:
How many hours each week will you be able to (reasonably) devote to the project?
Will you have reliable (daily) help completing the build?
How many individual projects (such as adding a solar system, building the bed frame, constructing the kitchenette, etc.) are involved in your conversion?
Based on your research and skills, about how long will each of these projects take to finish?
Do you have a deadline, where your van conversion must be complete by a certain day?
Based on your answers to these questions, you can determine how long your project might take.
You may also find that working with a professional van conversion company could be more cost-effective or more appropriate for your timeline.
Conclusions About Sprinter Van Conversion Costs
Between the cost of the van, materials and labor, there are a lot of variables to consider when estimating the total cost for your Sprinter van conversion project.
The good news is that you can certainly find ways to minimize your costs with creative solutions, especially when sourcing your materials.
At the end of the day, your Sprinter van conversion can be as tricked out or simple as you want or need it to be!
Everything depends on your budget, but more importantly, you can use your taste, creativity, and some elbow grease to build your dream van home – even if you have a smaller budget.