Use Google Maps or a directory like Yelp to find an RV wash near you. Simply enter "RV wash near me" in the search bar and see a list of nearby options. You can alternatively consider local RV parks or camping grounds, as they often have RV wash stations.
Locating where to get your RV washed can be challenging. This is because RV journeys often take us to unfamiliar places. In the first few weeks of my full-time RVing in Navarre, Florida, I struggled to decide where to get the vehicle washed. I eventually settled for the services of an RV detailer since they use the right products and the price wasn't outrageous. 
Your case may be different, but the good news is I have done enough research and created this article to walk you through the various ways to easily identify locations around you where you can wash your RV.
The Different RV Wash Options Around You
In the table below, I have illustrated the different easy-to-locate places around you to get your RV washed. This will help you make a decision faster in case you're in a hurry:
Later in this article, you will also learn the price expectations to have in mind for washing RVs and the various options available to get such a service at a slashed price in different RV wash locations. So I encourage you to read to the end.
| RV Wash Options | Directions | Verdict |
| --- | --- | --- |
| Truck wash at truck shops | Visit Blue Bacon's online page to search for the nearest location for a truck wash. | An affordable and straightforward option |
| Mobile RV wash companies | Ask RV parks, campground hosts, and local gas stations | It is expensive but the best option in remote areas. Ideal for an RV that's stationary. |
| RV dealerships | Ask RV parks, campground hosts, and local gas stations | It is a convenient option even to get repairs, maintenance, and washing. |
| Google search | Type "RV wash near me" in the search bar with the device location switched ON. | There are multiple RV wash options to choose from around you. Allows you to know the ones that are currently active or otherwise. |
| Yelp database | Type "RV wash near me" in the search bar with the device location switched ON. | For multiple RV wash options around you, access to customer reviews and pictures. |
Pro Tip:
The Yelp database is the most valuable resource for finding RV wash services near you.
It has extensive user-generated reviews and ratings, along with pictures of these RV wash facilities taken by customers.
I have relied on the platform each time I travel inter-state to get insights into the quality and experiences of other customers about the best RV wash options in local areas.
However, if opening an account looks cumbersome, there are other options.
Let's look at these various RV wash options in detail:
Truck Wash At Truck Shops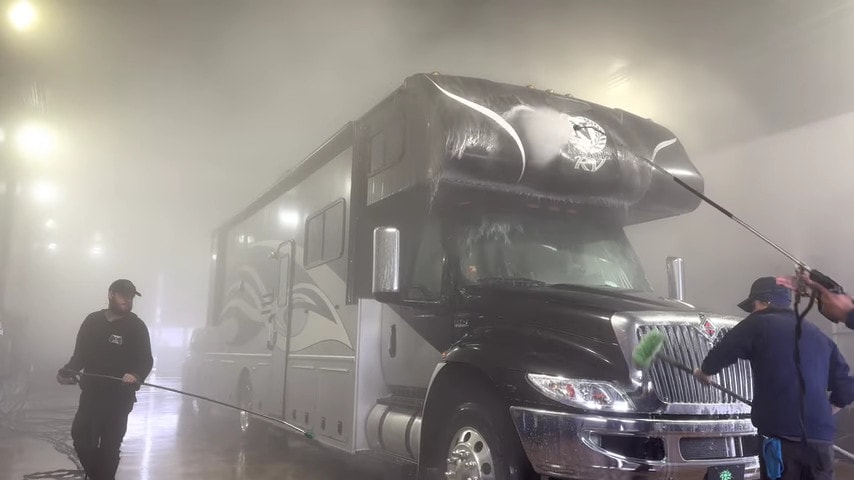 If you can locate a truck shop around you, finding a place to get your RV washed becomes easier. You can pull into these locations and align with other big rigs. I particularly like the RV wash option because it's cheap and easy to find.
With online directories like DC Book Company, you can access a list of various truck wash stops in your location.
Meanwhile, prices vary by location but are usually charged by RV length.
Mobile RV Wash Companies
You can also find RV wash near you by contacting mobile RV wash companies. I recommend this option if your rig is stationary and moving it to truck stops is too much work. You must usually schedule to come wherever you've parked your RV. But their services aren't the cheapest option, costing hundreds of dollars.
But the good side is that they often focus on cleaning the awnings, the plastic on your vent, air conditioning covers, your roof, and many other vehicle details.
Remember that most RV parks don't allow cleaning of vehicles in the campground due to water usage and disposal. So, if you're in a campground, get permission before using a mobile RV wash company.
Examples of reputable mobile RV wash companies include On The Spot, Greg Hoffman's Mobile RV Wash, and Mr. H20, among many others, which you can find using the Yelp platform based on your current location.
RV Dealerships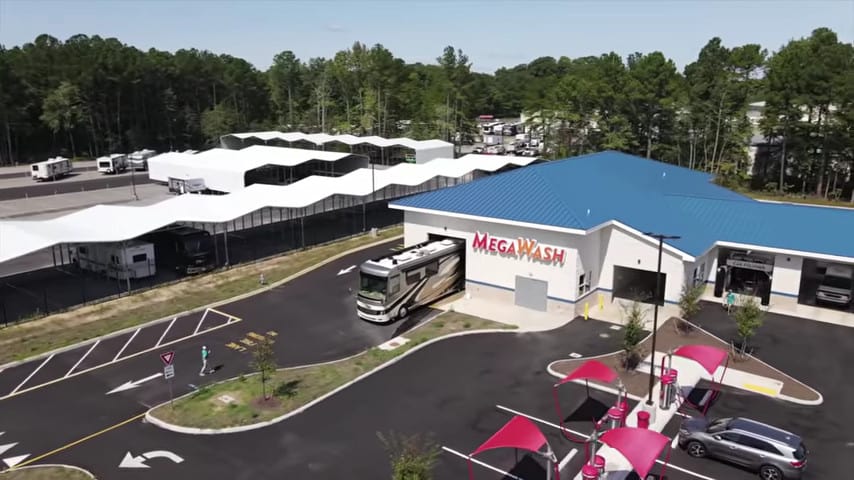 If you're looking for where to wash your RV near you, consider the closest RV dealership. If you don't know any, you can ask local gas station attendants or fellow RV owners at the campsites.
Many RV dealerships operate wash facilities on-site because while selling RVs, they also want to ensure buyers leave the facility with clean rigs.
So, it's possible to find an RV dealer near you offering a cleaning service. The best part of this option is that while you have access to get your rig washed, it also makes you closer to getting repairs and maintenance done if needed.
Google Search
A quick Google search is another way to find RV wash companies or facilities around you. However, it would be best if you input the right queries in the search engine to see the results you're looking for
Log on to Google and type "RV wash near me." The result will expose you to a long list of companies around your location currently offering such service, along with their opening times, cost, and customer reviews.
You can also leverage Google Maps to navigate your way to the location of these RV wash companies.
Yelp Database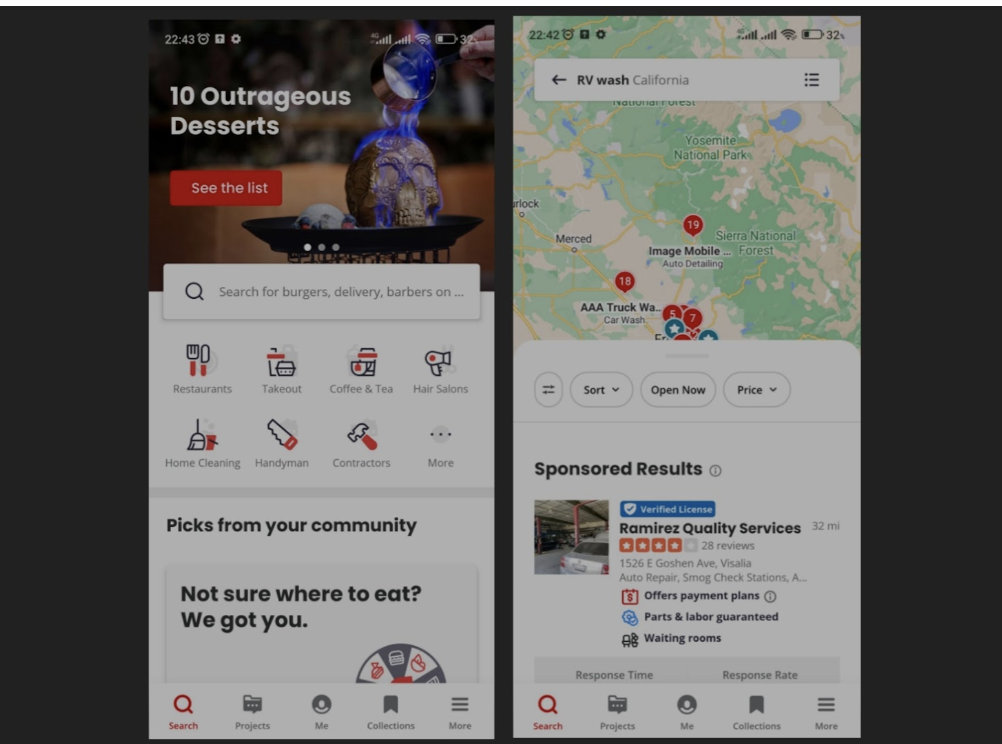 Yelp is a company that publishes crowd-sourced reviews about businesses. People, especially tourists who just arrived in a new area, use the platform to locate places of interest like restaurants, bars, and hotels.
RV wash companies are one of the many businesses that Yelp can help you find based on your location. The best part is that it gives you access to other users' reviews, ratings, pictures, and opinions about the company so that you know what you're getting into.
To find an RV wash near you on Yelp, follow these steps:
Open the Yelp app or website.
Type "RV wash" or a related keyword in the search bar.
Add your location or enable location services to find options nearby.
Browse the search results, which include user ratings, reviews, and photos.
Filter and sort the results based on your preferences, such as distance or budget.
Click on a listing to view more details and contact information for the RV wash service you're interested in.
How Much Does It Cost to Wash an RV?
The cost of washing your RV depends on the length and the type of services you want. Many auto detailing and RV wash facilities charge approximately $5 per foot.
However, the cost can go as high as $45 per foot when you want someone to rinse, wax, and do other interior detailing for your RV. Meanwhile, it also depends on your location.
While I was at Navarre, the RV detailer charged me $18 for a simple wash and wax. But sometimes, we land between $25 and $30 per foot on RVs. This price range can be different in other parts of the US.
For instance, some RV owners in Elkhart County, Indiana, testified spending around $300 to $450 for a wash and wax on a 44′ RV in campgrounds.
FAQs
Where do you wash your RV?
You can wash your RV at specialized RV wash stations, truck stops, or even at home if you have the space and equipment. Many RV owners prefer using dedicated RV wash services so they don't have to worry about proper cleaning and waste disposal.
Can you wash an RV in a car wash?
Yes, you can wash an RV in a car wash. Many car wash facilities offer large bays or specialized equipment for cleaning RVs and other oversized vehicles.
How do you dry an RV after washing it?
You can use a leaf blower on low settings to dry away water droplets from your RV after washing. Alternatively, you can use a soft, absorbent microfiber cloth or a squeegee to remove excess water. Pay attention to seams, corners, and windows as you dry the vehicle.