If you're searching for a compact camping trailer that doesn't weigh too much and can handle dirt roads, an off-road pop up camper is a great option. Pop up campers also give you the versatility to detach your vehicle and leave the camper set up in one place for several days at a time.
In many ways, these campers are much more convenient and weather-resistant alternatives to tent camping.
Sure, they weigh a little bit more, but most of them are much easier to set up and contain tons more interior living space than you'd ever get with a regular camping tent.
But, as with an off-road trailer or boondocking RV, certain models are better designed and durable than others. And that's exactly why we're going to highlight the best off road tent trailers and provide some useful tips to help you choose a design that suits your camping needs. 
But, before we review them and let you know why we chose each design, let's clearly define what these off-road tent trailers are, discuss their advantages and disadvantages, and describe the most important features you should be looking for when choosing an off road popup camper.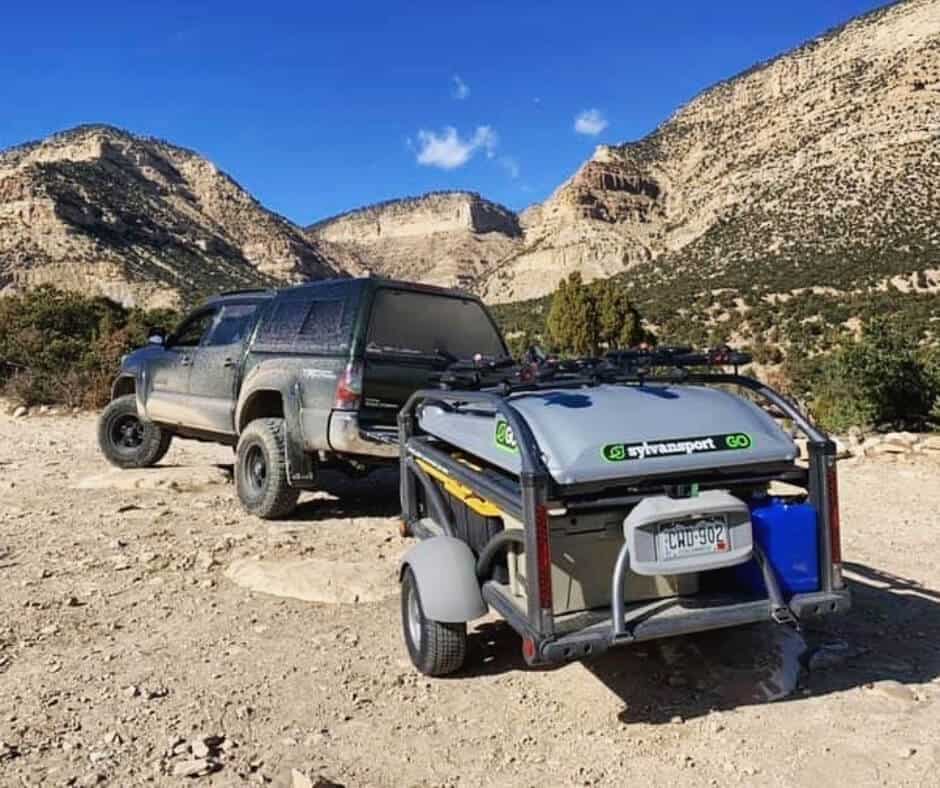 What Is Off Road Pop Up Camper?
An off road pop up camper also known as off road tent trailer is a small camping trailer that you tow behind your truck or SUV. Some of the smallest models can even be towed behind compact cars, but you'll want to have four-wheel drive if you plan to use these camping trailers off road.
These pop up campers vary in size and weight, but they all have one thing in common. When you arrive at your destination, the top of the camper pops upward to create the interior living and camping space that you'll take advantage of at your favorite camping destinations.
Because of their pop up design, most of these trailers have canvas tent walls when they're popped open. But the roof and bottom portion is usually made of a harder fiberglass or steel material that's more resistant to weather and road debris.
Most off road pop up campers feature a single-axle design with a total of two tires. They can vary somewhat in the exact mechanism that they use to pop up.
Some require you to turn a manual crank handle and others feature a small electric motor that makes popping them up as simple as pressing and holding the right button.
Additionally, some pop up campers will have a small trailer bed in front of the camper. This area is typically where pop up camper owners store portable generators, camping stoves, and anything else that they like to bring on their camping trips.
How Far Could You Go With An Off Road Tent Camper?
Off road tent campers will allow you to explore places that most Class A and C motorhomes simply won't be able to get to. And, to be honest, even folks with large trucks that are hauling heavy travel trailers and 5th wheels won't be able to make it up the kinds of roads you'll be able to tackle with an off road tent trailer.
That being said, how far you can go with an off road tent camper depends on the off-road capabilities of your vehicle. If you're towing one of these with a decked-out Toyota Tacoma or Jeep Wrangler, there honestly may be few roads that you can't handle.
On the other hand, you'll be much more limited by how far you can go with an off road tent camper if you're towing it with a smaller SUV with less ground clearance. And towing one of these camping trailers with a four-wheel-drive vehicle is always going to expand how far you can go compared to towing one with a two-wheel-drive vehicle.
In the end, how far you could go with an off road popup tent camper also depends on your skills and experience as an off-road driver. And as you gain skills and experience navigating rugged, unmaintained roads, you'll certainly be able to go farther and camp at more remote destinations!
Features to Look for in Off Road Pop Up Campers
When you're evaluating whether a certain off-road pop up camper is worth the investment, there are certain important features that you should pay close attention to.
These features will also help you compare different camper designs to others to see which is a better fit for your needs.
Tires
It might sound too obvious, but any good off road popup tent camper will boast a solid set of off road tires. Pay close attention to the size of the tire and the depth of the tread when you're looking at these camping trailers.
Generally speaking, a camper that has larger tires with deeper tread is going to handle off-road terrain better.
Suspension
Off-road pop up campers must be equipped with a more beefy suspension system than a standard travel trailer. Large shock absorbers will help the trailer ride smoother behind your vehicle and also make it easier to maneuver on rough terrain.
It will also make towing one of these campers much safer, especially if you can find a model with adjustable or fully independent suspension.
Ground Clearance
Just like with an off-highway vehicle, more ground clearance will give you the ability to handle more rugged roads without scraping or become high-centered. As a good rule of thumb, you should look for a popup camper with at least 12 inches of ground clearance. But more can actually be better.
More ground clearance will translate to more space underneath your trailer to avoid striking rocks or bottoming out.That being said, it's also a good idea to find a popup camper that has the same amount of ground clearance as your towing vehicle. That will keep your trailer as level as possible when you're towing.
Storage
Another important feature for pop up campers is storage space. That's why we recommend looking for a design that has the popup camper towards the back and an open section of trailer in the front.
This will allow you to keep the majority of the weight that you add onto the camper in front of the axle to prevent fishtailing.
If you intend to camp in rainy or more humid climates, there are also a limited number of pop up campers that feature covered or enclosed storage. This can be really important if you're storing any camping equipment that can't get wet while you're out or even while you're driving.
Electric Brakes
Boat trailers were some of the first to include electric brakes because they take some of the wear and tear off the brakes in your towing vehicle. Over time, towing anything behind your vehicle is going to wear out your brakes much faster than if you weren't towing.
This is simply a matter of the extra weight that your vehicle will be responsible for stopping or slowing down when towing. But if you choose an off road pop up tent camping trailer that has electric brakes, it will automatically sense when you apply the brakes in your towing vehicle.
This will help you slow down or stop more smoothly and it will also reduce the wear and tear on your vehicle's brakes, which ultimately allows you to do more adventuring before it's time to shell out money for new brake pads and rotors.
Advantages And Disadvantages Of An Off Road Popup Camper?
Off road pop up campers make sense for some and not quite so much sense for others.
So before we review some of the best off road pop up campers, let's discuss some important advantages and disadvantages of an off road pop up camper.
Things We Like
Things We Don't Like
Rugged, Reliable, and Ready for Anything: Top 5 Off-Road Popup Campers for Every Budget in 2023
Pop up trailers are an excellent option for off-road camping because they are lightweight, compact, and easy to set up.
But there are many different models to choose from these days, so we've compiled five of the best pop up campers for you to compare and contrast.
Here are our top five recommendations for the most durable and rugged off-road pop-up campers in 2023 that are designed to withstand tough terrains and allow you to explore beyond the usual paths.
1. Best For Small SUVs: Sylvansport Go Pop Up Tent Camper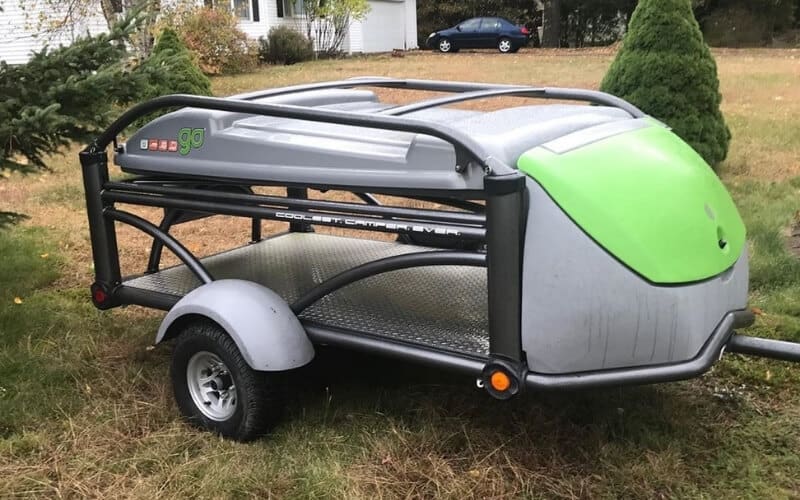 If you're searching for an off-road popup camper that's small enough to be towed by an SUV or even a mid-sized sedan, then the Sylvansport Go camper is an excellent choice.
One of the biggest reasons why we like this popup camper is because it allows you to customize the storage setup on top of it.
The top of the trailer is only 36 inches off the ground, which makes it much easier to load up to 165 pounds of your favorite outdoor gear. You can set up your bikes, kayaks, or other larger equipment to transport to your off-road destinations.
When it's popped up, the tent on this camper also offers an excellent amount of space for up to four people.
The tent measures 80 inches long and 116 inches wide. It also has a standing height of 6'5", which allows taller campers to stand up comfortably to change or prepare your sleeping setup.
You can also pop the trailer open to reveal a gear deck under the pop up tent. That deck is 48 inches wide and 84 inches deep and opens with a manual hand crank. When fully opened, it expands the height of the gear storage space from 17 inches up to 48 inches. This deck gives you additional storage space for gear bins or even an ATV.
Inside the tent, you'll have some freedom to customize your sleeping arrangement depending on your preference. You can set it up with two extra-large twin beds that measure 80 inches long and 34 inches wide.
Or you can convert it to a single king bed that's 80 inches long by 116 inches wide. While this popup camper doesn't have its own indoor kitchen, it does have a dining table that seats four people comfortably.
And because it starts at a reasonably low price compared to some other popup campers, you may even consider opting for the Go All Out package, which includes a solar kit, screen room, camp kitchen, and several other amenities that are great for off-road camping.
2. Best Heavy Duty Suspension System: Opus OP4 Off Road Pop-Up Camper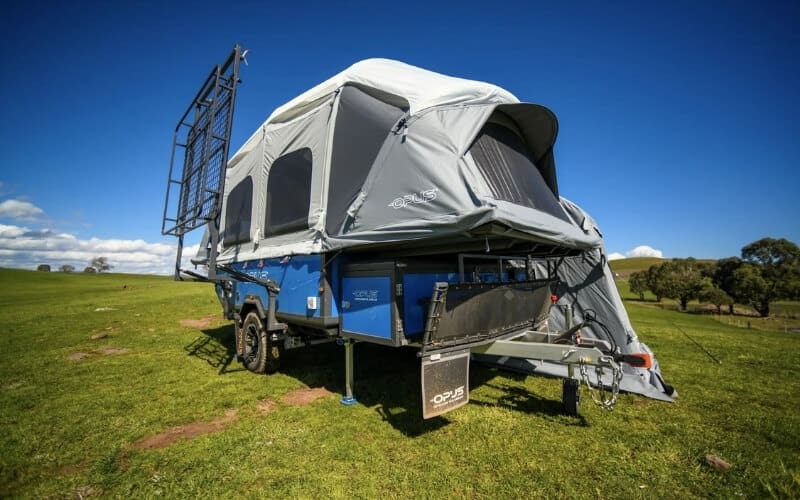 If you want a popup camping trailer that you know you'll be able to rely on when you encounter rugged terrain, the Opus OP4 boasts one of the most heavy-duty suspension systems you'll find on any off-road popup camper.
This Off-road tent trailer features independent coil suspension and it's built on a truly all-terrain chassis. This popup trailer also has more than 12 inches of ground clearance and the tent inflates in just 90 seconds for quick and easy setup.
By designing this popup camper with an inflatable tent, Opus created a camper with much more interior living space when you're set up at camp. The tent has eight-foot-high ceilings and the entire trailer measures 21'4" long and 6'10" wide when fully opened.
When collapsed, the trailer measures 18'4" long and just 4'9" tall. Although it's much heavier than the previous design, this popup camper offers a fully equipped slide-out stainless steel kitchen to help you enjoy delicious camping meals wherever you go.
It also comes with an exterior screen room that allows you to enclose the kitchen area to keep out bugs and other curious critters.
That kitchen even includes a small portable refrigerator to make keeping any perishable foods cold a non-issue for up to four days off-the-grid.
This off-road tent trailer also has a 40-gallon water tank on board, which means you'll be able to carry plenty of drinking and cleaning water without taking up extra space in your towing vehicle.
And because it's equipped with pressurized gas springs, the tent pops up easily and you won't have to sit there and crank a handle manually to set it up.
3. Best For Couples: Taxa Outdoors Tigermoth Pop-Up Camper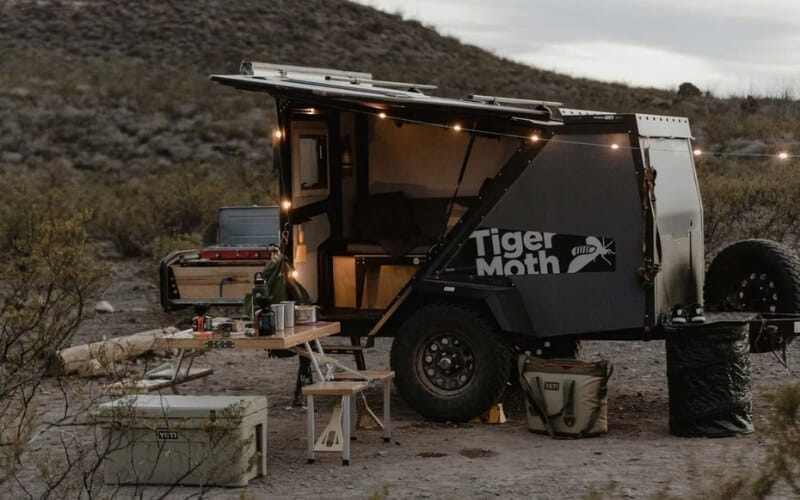 If you're looking for something that you and your adventure partner can enjoy comfortably before your family starts to expand, check out the Taxa Outdoors Tigermoth.
Not only is this an extremely functional popup camper, but it's also sleek and guaranteed to turn heads at your favorite dispersed camping locations.
The Tigermoth offers a full 15 inches of ground clearance and is built with everything you'll need to spend more than a week off-the-grid at a time.
It features a built-in electrical system, LED lights, 12-volt outlets, and an onboard water tank with a five-gallon capacity.
You can also opt to install solar panels on the roof of your Tigermoth for improved power collection and storage.
In addition to all of its components, this trailer can handle an additional 840 pounds of your favorite recreation gear.
There's a cargo deck at the front of the trailer that's rated to handle up to 200 pounds.
And there's also additional storage space under the bed and in the trailer's large four-foot exterior drawer with locking slides.
When you open the rear door, you'll be able to access the pull-out kitchen with 5.5 square feet of countertop space, a dedicated cutting board, and two large cubbies for storing all of your cookware.
You will need your own portable camping stove to bring the heat to this camper's kitchen though.
But when it's time to lay down your heads for the evening, you'll love the full-sized bed measuring 80 inches long by 54 inches wide.
And even as your family grows, you can upgrade your Tigermoth off road camper with a rooftop tent to accommodate two more sleepers!
4. Best Budget-Friendly Popup Camper: VMI Off Road Xtender Explorer
If you're interested in getting an off road pop up camper but you have a somewhat limited budget, then check out this reasonably priced VMI Off Road Xtender Explorer camper.
This is a compact camping trailer as well, measuring just 11 feet long and six feet wide, which means you'll be able to park it in smaller campsites than you'd be able to fit other camping trailers.
The Xtender Explorer is equipped with a CVT rooftop tent that easily sets up when you're ready to sleep.
But the trailer itself offers an excellent amount of enclosed storage space, which makes it a great option for traveling in rainier climates.
Overall, you'll be able to utilize the 68 cubic feet of storage space in this trailer to your full advantage.
To access much of that space, the trailer has a large swing-way tailgate.
That keeps the door out of the way instead of a fold-down tailgate that you'll constantly be reaching over every time you need to grab something out of the trailer.
This trailer also features large AT off-road tires that measure 31" x 10.5" x 15" and leaf spring suspension with Nytro shocks.
The hinged lid of the trailer also opens completely and it's supported by twin gas struts that help you manage the weight of the lid when you open it.
5. Best For Large Families: Forest River Flagstaff Sports Enthusiast Package 28TSCSE
If you have a larger family and you want everyone to have a comfortable sleeping space when you're off-road camping, then the Forest River Flagstaff Sports Enthusiast Package is the way to go.
There are a number of floor plans to choose from, but we chose the 28TSCSE for a few important reasons.
For starters, this floor plan features two separate sleeping areas on either end. One bed measures 70" x 80" and the other measures 60" x 80".
Those separate areas allow families to maintain some level of privacy when camping in a smaller rig like this, which can be especially important for everyone's sanity.
In the center of this trailer, there's also a 50" x 72" dinette that provides plenty of seating space for everyone to enjoy dinner inside if it's rainy. But that dinette also converts down into another sizable bed for two or even three smaller campers.
One thing that the Flagstaff offers that many other popup campers don't is an inside shower and toilet.
That'll keep everyone feeling comfortable with sanitation and hygiene without having to establish dedicated quadrants for everyone to attend to their "bowel business" outside.
And the Flagstaff also has a fully equipped indoor kitchen with a small refrigerator and a propane cooktop.
But the barbecue extraordinaire in your family will also love that this camper has a fold-out gas grill outside the door for grilling up steaks or bratwurst in true camping fashion!
Conclusion
If you have a small truck or an SUV that you intend to use for off-road camping, a pop up tent camper is a great choice for a more comfortable camping experience.
And our choices for the best off road pop up campers are among the coolest models on the market today.
As with any outdoor recreational pursuit, we always encourage our readers to camp responsibly.
Please practice Leave No Trace principles when you explore remote locations so that future off-road popup campers can also enjoy the same beautiful places you visited in your camping trailer!